How to STEAM
Be authentic! That's the number one tip needed to encourage STEAM-thinking according to Nicholas Krissie, an award-winning science teacher at Lincoln Middle School in the Oakland School District. He encourages educators to bring their interests to the classroom. Because when a teacher is interested and curious about something, students are more likely to become engaged. "STEAM-learning is applied curiosity," he says.
Krissie enjoys drinking coffee, so he incorporated coffee into a classroom experiment, which compared the temperatures of coffee in ceramic and glass mugs by leading with the question Why? "STEAM doesn't need to be complicated," he adds. "I love questioning things people normally don't question."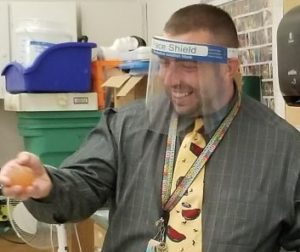 "STEAM doesn't need to be expensive either," he points out. One lesson that's popular with his students is making paper frogs. The students decide what questions they want to ask about the paper frog. But the questions must be measurable. And then the students discover the answers.
Water is another common resource that students get excited about. Whether students are figuring out where the bubbles in boiling water come from or why a hand becomes wrinkled in warm water and how these things happen are examples of finding answers to topics surrounding chemical change, osmosis, cell division and more.
In the classroom setting, Krissie's students eagerly raise their hands, and when they're called on they aren't afraid to give the wrong answer because he encourages students to dig deeper until they find the answer.
Krissie teaches students how to think like scientists and to look for patterns, think about cause and effect and to consider structure and function. "Science is all around us." And this type of critical thinking can be applied to all careers, everyday decisions and problem solving.
"But before you can effectively teach STEAM," Krissie stresses, "you need to teach procedures and expectations." Knowing how to be safe and how to properly wear goggles, for instance, are important practices.
"My entire job is to keep students interested and to care. And I like to remind students to not be afraid of things going wrong or making a mess," he says. "That's how we learn."
Seeking advice from others is another way Krissie ensures STEAM lessons are multidimensional. For instance, a few years ago, after he led more than 130 students in Coos Bay in a cigar box guitar workshop (which incorporated all of the STEAM disciplines), the students had the chance to work with international cigar box guitar expert Justin Johnson and learn about music theory and how to play rhythm and blues.
As the recipient of several STEAM-related awards, Krissie credits his success as an educator to people who have taught him and talented people he works alongside.
Krissie also gives back to the education community. Recently, he helped lead a virtual workshop at the Smithsonian Educator's Day conference, which brought together PreK-12 educators from across the nation and provided free training in resources that enhance learning.
When asked what Krissie does to grow as a leader, he replied. "I read a lot and listen to audio books." Another hobby that he's started is running marathons in national parks. "While I'm running, I'm seeing and feeling and thinking." Plus, he also gets to see curiosity through the eyes of his 18-month-old son.
This school year Krissie began his ninth year of teaching. And we're excited about his future and the futures of the students he leads.
"I teach amazing kids," says Krissie.
Krissie is one example of our dedicated local educators who spark curiosity by guiding students in STEAM-learning.